With 33 new luxury homes situated in this lush woodland setting on the outskirts of Bray, Co Wicklow, Kilbride makes the most of the dramatic views of the Sugarloaf and Wicklow mountains, and includes retention of the existing gate lodge and former Danish embassy, Kilbride Hill House.
The two-storey houses are carefully arranged to provide appealing streetscapes looking onto shared landscaped areas.
The orientation maximises sunlight and ensures the large back gardens benefit from the sloping nature of the site and views of the surrounding countryside.
Address
Kilbride Hill, Herbert Road, Bray, Co Wicklow
Developer
Marlet Property Group
Architect
McCauley Daye O'Connell
Property Overview
The 33 dwellings will comprise 3to 5 detached and semi-detached homes.
These housing types are arranged to provide balanced streetscapes, addressing a series of shared landscaped areas. The house types are oriented to maximise sunlight and amenity. All houses have large back gardens which are oriented to benefit from the sloping nature of the site.
Details & Amenities
The 31 new dwellings will comprise of 14 two-storey 4-bed detached homes, 1 two-storey 3-bed detached home, 16 two-storey 3-bed semi-detached homes, with a total of 86 on-street car parking spaces.
The charming existing entrance to Kilbride will be retained, and the beautiful landscape will benefit from additional planting, ensuring that the woodland feel of the site remains for generations to come.
There will be extensive public open spaces totalling 5,000 sqm (plus incidental open spaces totalling 9,500 sqm) including generous landscaping, a children's play area and pedestrian links to the wood to the north-west of the site.
33 Houses
86 Car parking spaces
Children's play area
Landscaped Public Space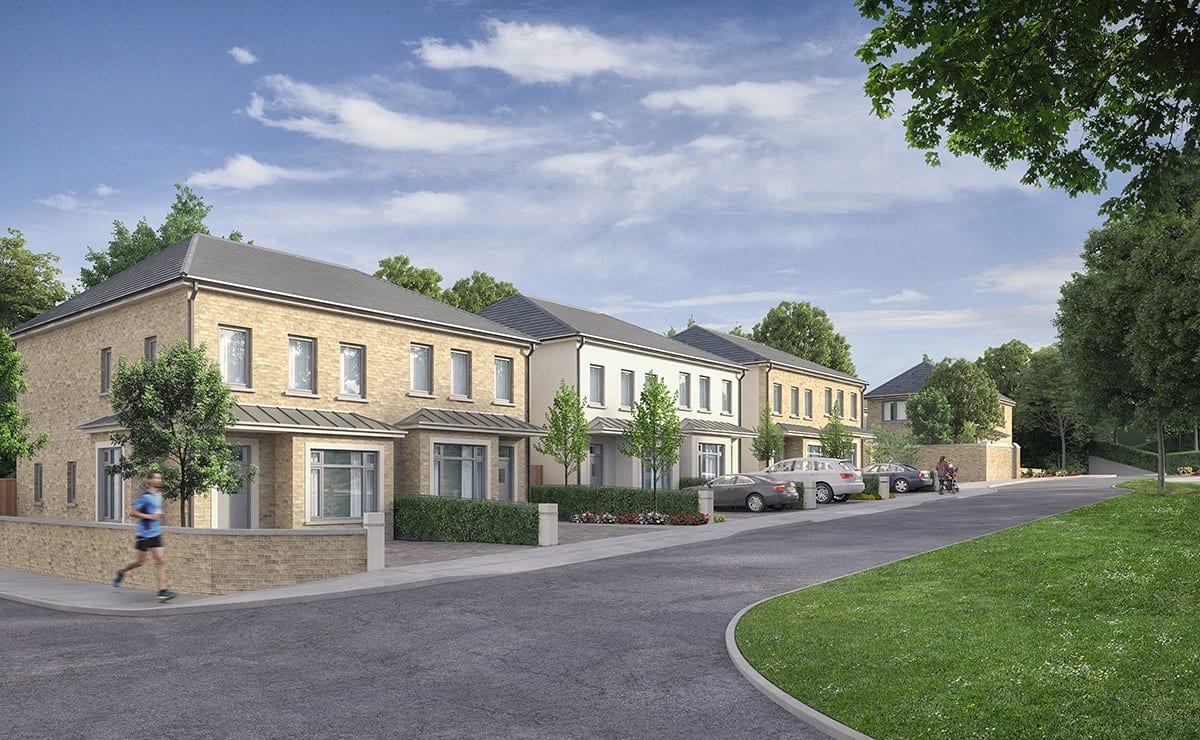 Location
The Kilbride site is located on Herbert Road in Bray, approximately 2km from Bray Town Centre.
Bray is a very appealing seaside town offering a complete array of amenities and attractions, including Bray Head walk, the shore, Kilruddery House and Gardens, numerous boutiques, salons, restaurants, cafés, as well as sporting facilities including Bray Sailing Club, Bray Golf Club, Brennanstown Horse Riding School and County Wicklow Lawn Tennis Club.
Kilbride benefits from excellent transport links. The N11/M11 motorway is a short distance away, with access to the M50 and Dublin. The area is served by Dublin Bus routes 145, 84X and 185, and in turn links to Dun Laoghaire, Blackrock and Dublin City Centre.
Bray DART/train station is 3.5 kms from the site, providing frequent services to Dublin City Centre and Rosslare Europort.