16th May 2021
Dublin-based street artist Kinmx reveals spectacular mural on Sir Rogerson's Quay
Dublin-based artist, Kathrina Rupit, also known as Kinmx, just revealed Dublin's latest street art in the heart of the South Docks, on the corner of Sir Rogerson's Quay and Lime Street.
This new spectacular mural is located among the campshires, on a building formerly home of the British and Irish Steam Packet Company, which is being restored by Marlet Property Group as part of their future commercial development, the Shipping Office.
A vast majority of murals these days are created using spray paint, but for this piece, a very specific eco-friendly and breathable paint (free of solvents, microplastics, hazardous additives, preservatives or biocides – manufactured by Graphenstone) was applied using brushes and rollers only, which is a testament to Kinmx's boundless talent.
To create this breathtaking wall art, Kinmx took inspiration from the heritage of the site as well as the close proximity to the river Liffey and the sea, with a vibrant colour pallet using variants of the iconic orange-red shade of the bricks of the neighbouring walls and different tonalities of blue that imitate the sky while referring to marine life.
The art represents a stunning Irish peacock butterfly – representing the transformation and constant evolution of Dublin's South Docks – flying in front of a beautiful young woman wearing a paper boat and a compass in her blue hair symbolising the waves of the Irish sea.
Both are encompassed by two seagulls and two large blue sea weeds, further reference to the sea life and small stars can be found in the background as they were paramount to sea navigation in the past.
Kinmx said: "I loved having the opportunity to research the history and evolution of this area for the inspiration of this piece, also it was a new experience to paint a protected structure without spray paint, just using ecological breathable paint with brushes and rollers which was a lot more strenuous but ultimately very fulfilling, I think this piece on this historical building is a good representation of the transformation of the area – where past and present meet in harmony."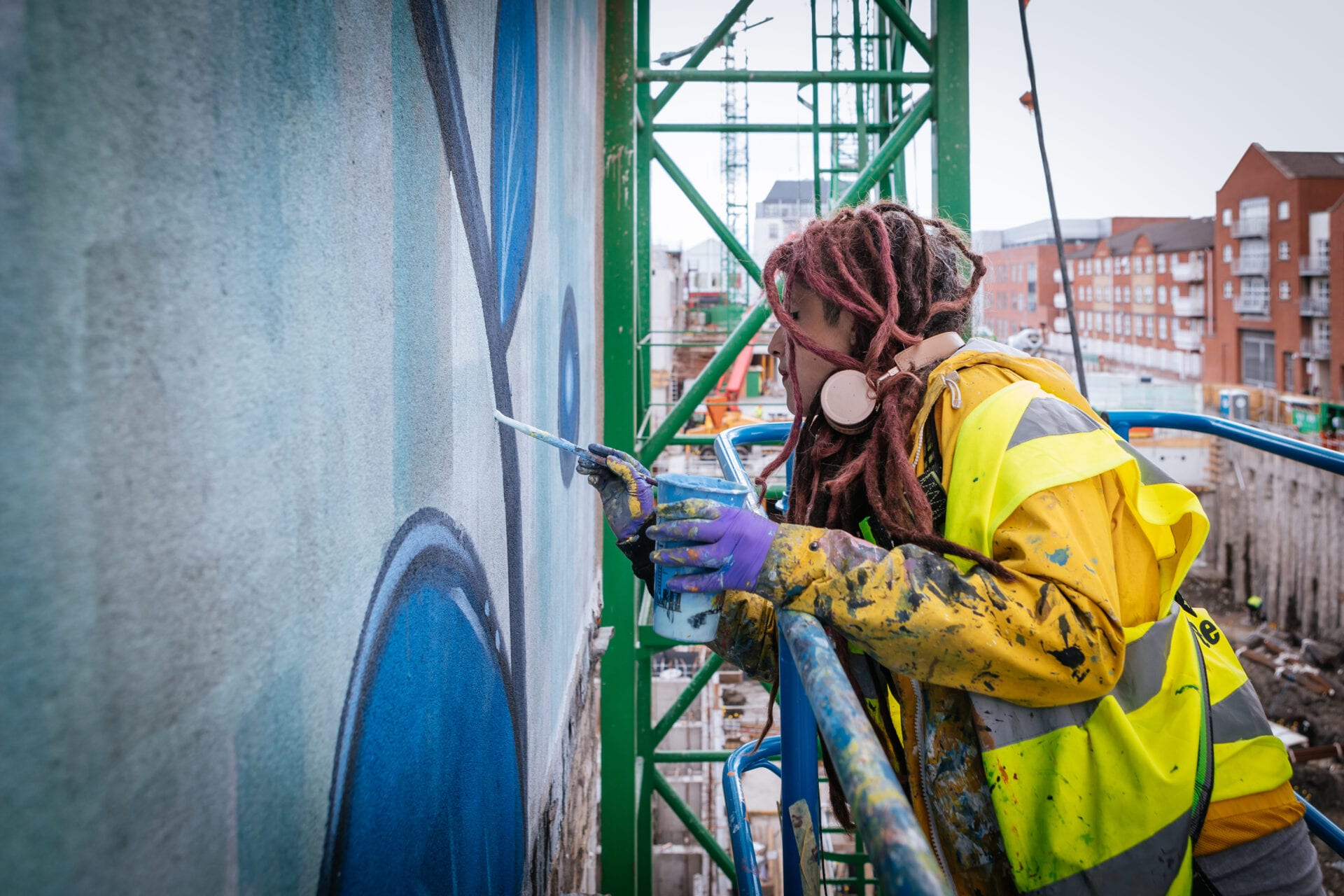 Siobhan Maher, DCC, said: "Dublin City Council were delighted to work with Marlet and Kinmx on this phenomenal new mural, to animate the public realm and support the reopening of the city. Street Art as an art form can enhance and add significantly to industrial space. These installations in appropriate locations, help to create unique experiences and bring about culture change through its interpretation and engagement with the passers-by's."
More News